Health
Vector-borne scare: Bhopal students to be asked to wear full sleeves – ET HealthWorld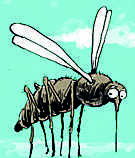 BHOPAL: District administration has directed the district education office to encourage students in schools to wear full sleeve shirts. District collector Avinash
Lavania
, in the review meeting regarding
dengue and malaria
, took the decision.
When contacted, DEO Bhopal, Nitin Triptahi said full guidelines will be issued separately. "We will issue the full guidelines on Friday. Wearing full sleeves and pants is not mandatory. Schools will be asked to encourage students to wear full sleeves and pants," said Tripathi.
He added, "Last year, the school education department had made it mandatory but several schools started pressing students for new uniform after that several parents made complaints against them. This year schools will be asked to motivate instead of issuing a mandatory order." An awareness campaign will be also launched wherein schools will provide information to the students on how to keep safe from dengue and malaria.
Lavania said that Bhopal municipal corporation should carry out fogging during the day because dengue mosquito bites during the day.
Along with this, people should be told that the doors and windows of the house should also be kept open during the fogging, so that there is an effect on mosquitoes living inside the houses. District chief health officer, malaria officer and municipal corporation officials were present in the meeting organized at the collectorate.