Education
Institute of Home Economics initiates environmental steps for green campus – Times of India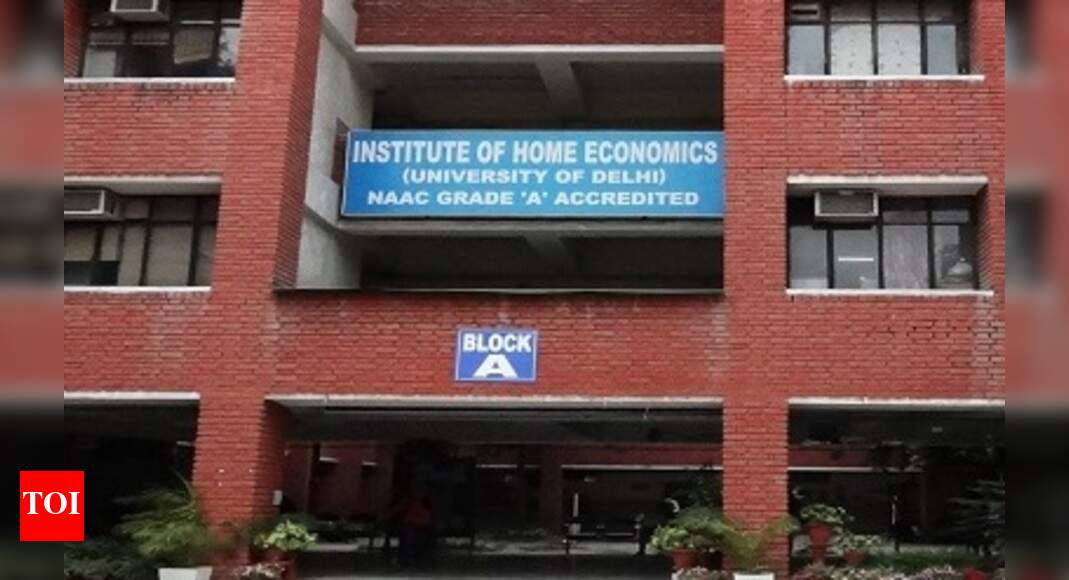 NEW DELHI: The University of Delhi's Institute of Home Economics is making sure that when students return to the college, they witness a 'green campus'. The college has announced several initiatives, including solar power alternative to electricity, indoor air pollution monitors, and have made other changes to the campus.
The institute in a statement said that "the importance of academic institutions involvement in sustainability achievement is needed like never before."
Geeta Trilok Kumar, the Director of the Institute of Home Economics stated that there is a need for a sustainable world where the society is strong, fair "and should maintain a stable relationship between human activities and the natural world, which does not diminish the prospects for future generations to enjoy a quality of life. For initiating this, colleges must be an incubator for change. Students should be given insights into the most important aspects of the human world from business to technology to the environment and the social sciences. "

As part of their initiative, the college had the Pollution and Control Association (IPCA) instal aerobins to make compost in the premises of the institute under the project 'SORT' (Segregation of Organic-Waste for Recycling and Treatment).
"Installation of aerobins was an important step to reduce waste in the college campus. Aerobins convert organic waste into compost within 40 days in a hygienic and environment friendly way, "the director said.

She added that "we are the first college in Delhi University wherein Aerobins are being installed".
The college has also turned into a 'zero plastic zone.' Disposable water bottles are banned to be sold in the canteen and timely servicing of water purifiers is done to encourage students to drink water from the water coolers.
The college is now set to install Air Quality Monitors on the campus.
"As awareness of air pollution and its effects, especially on students, grows, so too does the pressure on colleges to come up with an effective and coordinated response. Forward-thinking colleges like us see air pollution monitoring at the point of exposure (POE) as an opportunity to educate and protect the young lives, "said Trilok Kumar.

She added that teaching students about air pollution helps them to realize that the environment is central to everyone's life on earth. "Environment and community outreach committee of IHE has installed Air Quality Monitors with the support of Society for Indoor Environment (SIE) for real-time monitoring of air quality parameters like PM2.5, PM10, CO2, Temperature and Humidity."
The institute is also set on saving electricity through solar lighting inside the campus and also has a paper recycling unit.
The college's Department of Resource Management and Design Application and Eco-club 'Prakritik' has worked to create products using waste materials such as chairs from plumbing pipe, garden lights from plastic bottles, stools from tires, etc. "Department of RMDA also organizes an exhibition 'CREA' wherein students are studying ergonomic design displays their creation which is ergonomically designed such as a spinning table with shelves, creative flip-a display unit, trunk cum settee, etc," the college said.
The director said that "taking sustainable action that not only makes our campus looks green and vibrant but also extends its support to a much bigger cause, to inspire a culture which fosters appreciation and stewardship of our environment by educating students, community and masses at large to make an informed choice for a sustainable future. "

!function(f,b,e,v,n,t,s)
if(f.fbq)return;n=f.fbq=function()n.callMethod?
n.callMethod.apply(n,arguments):n.queue.push(arguments);
if(!f._fbq)f._fbq=n;n.push=n;n.loaded=!0;n.version='2.0′;
n.queue=[];t=b.createElement(e);t.async=!0;
t.src=v;s=b.getElementsByTagName(e)[0];
s.parentNode.insertBefore(t,s)(window, document,'script',
'https://connect.facebook.net/en_US/fbevents.js');
fbq('init', '2009952072561098');
fbq('track', 'PageView');
.



Source link