Education
A trans-disciplinary approach to design and humanise technology – Times of India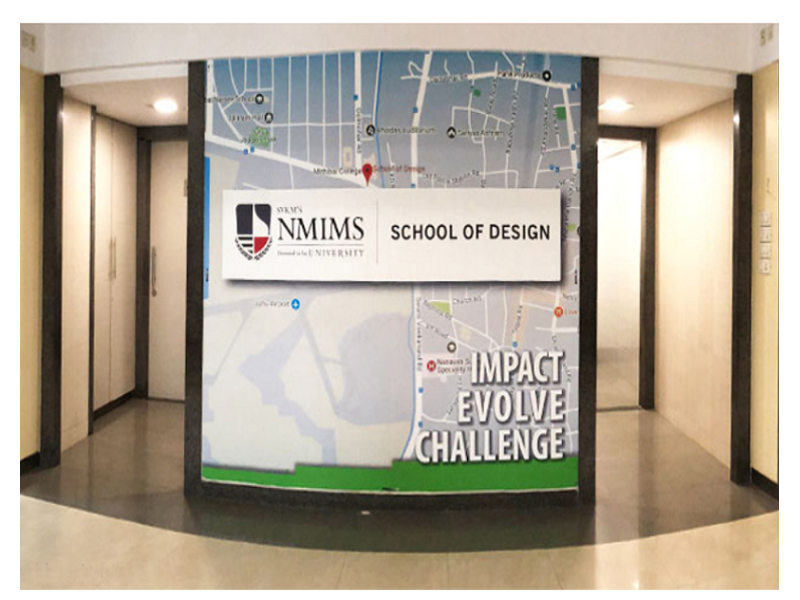 Humanizing design, which was once touted to be an ambitious theory, has percolated into every aspect of design operation in a globalized, interconnected space. We now find design in domain-specific areas where it is effectively collaborating with other streams of studies to solve problems, craft engaging products, and curate experiences that are enabled by technology. This congruence of multiple disciplines with design, has led to a paradigm shift, making a designer don many hats – from designing communications to designing businesses, creating futuristic experiences and delivering value through connected environments.
The need to promote a transdisciplinary approach to design and humanise technology
Holistic design respects every discipline it interacts with and this association increases the user centricity of design. In the last two decades, this transdisciplinary approach has helped designers build products that have customer value and can convert into market opportunity. This approach finally gave way to another very interesting concept in design- Humanizing Technology.
Transforming design education with a transdisciplinary edge: NMIMS School of Design
At a time when technology is no longer the only differentiator, top companies like Apple, Amazon, and others of that ilk are humanizing products through design to stay relevant. Keeping up with industry trends and requirements, NMIMS School of Design, one of the premier design schools in the country, has developed a transdisciplinary curriculum that is set to give students a cutting-edge training to prepare for the practical world. The School's B.Des-Humanizing Technology is the first of its kind transdisciplinary design 'degree' program that interweaves people, technology, science & business. As an all-round 'Humanizing Technology' specialization, it places the spotlight on leveraging technology to craft design experiences.
Click here to know more about the course
Cognitive, Business, and Leadership skills are therefore top-most for designers in practice and should be available to them as basic coursework in education as a designer. Prof Manisha Phadke, founding director, NMIMS School of Design, "Design today is futuristic, intangible, multidisciplinary and collaborative. Designers seek opportunity spaces and create value through crafted experiences largely enabled through technology. NMIMS School of Design is going to walk this path to be a new-age design school. "
The B. Des in Humanizing Technology is a generalist programme to be solutionists, a graduate of which will have agility, collaborative leadership quality, along with creativity and skills to engage in problem solving design. The four-year program is set to shape designers for the experience-led design industry.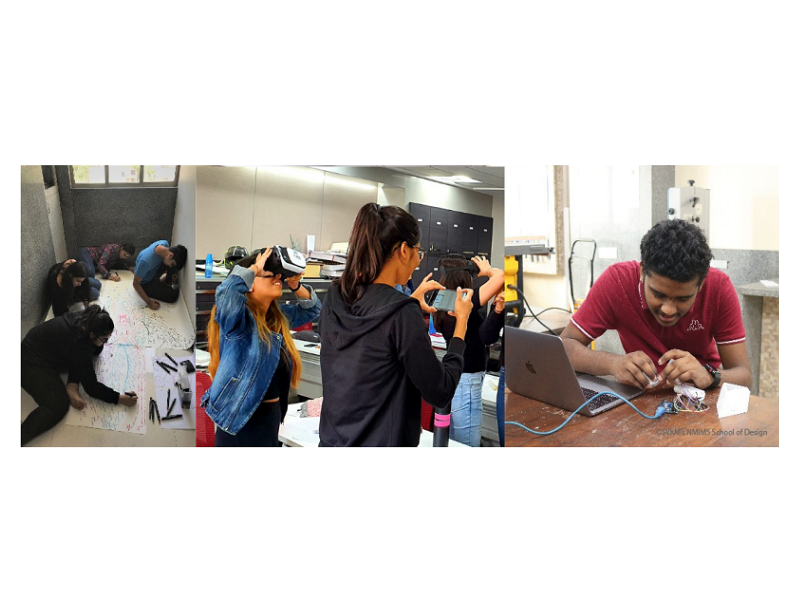 B.Des (Humanising Technology): Key takeaways
As a multi-skilled, transdisciplinary approach program, B. Des in Humanising Technology has a curriculum with design as a focal point to address problems considering the interpretations from cognitive, behavioural sciences, business and most importantly, by considering technology as an opportunity and an enabler.
Sumeet Wilankar, Associate Director, Global Digital Experience at Fidelity International, who visited the institute, says, "I was very surprised by the scale of projects that the students have taken up at School of Design, NMIMS. I did not know that they have to take up such big projects with so many challenges- and they did a brilliant job with that. For students who have just entered into the design field, this level of articulation and problem-solving is commendable. It was a learning experience for me as well. "
Learning in a design school is experiential, and is mostly achieved with the concept of 'learn by doing'. Hence, the School has state-of-the-art equipment in the form of engaging labs and studios. It features a Builder's sanctum (workshop), Augmented Reality-Virtual Reality lab, Usability lab and a Rapid prototyping lab to facilitate user-centric prototyping. Further, the school also equips students with multi-stream skill sets and expertise to visualize 2D, 3D & 5D sensorial experiences along with a vibrant student life and campus ecosystem.
Sustaining the program's pedagogy, B.Des Humanising Technology students have won various awards till date and are continuing getting nominations and appreciations in various National & International competitions.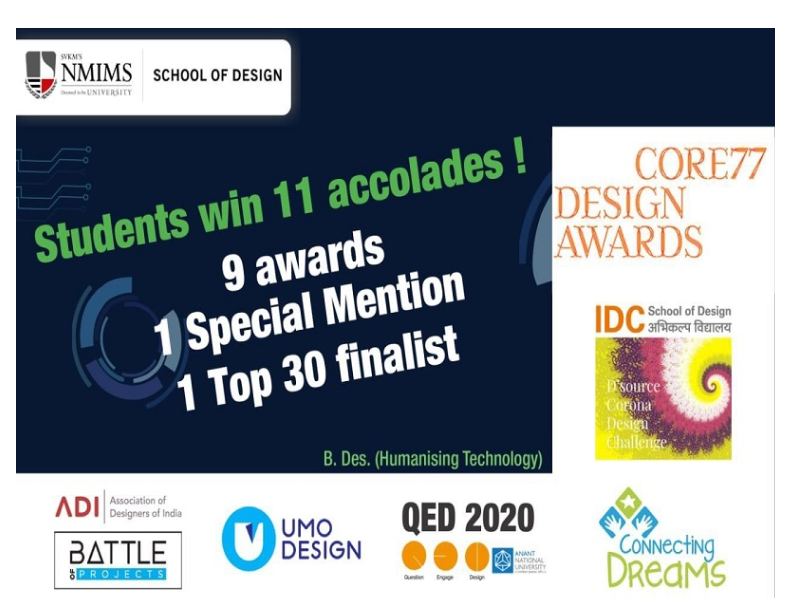 Career Prospects
With design dominating most sectors today, this program spells good news for budding designers.
Thanks to an immersive curriculum, aided with the necessary practical training, graduates of this program are equipped to work in some of the top-rated companies across the globe across sectors like Consulting, Hospitality, IT, Banking, Healthcare, Education, and Tourism among others. The program is ideal for students aspiring to become Interaction Designers, Experience Designers in Emerging Technology, Design Researcher, UX Designer, Data Visualizer, etc.
The NMIMS legacy
Built on an inspiring legacy of 41 years, NMIMS has 17 specialized schools, spanning across Mumbai, Navi Mumbai, Shirpur, Dhule, Indore, Hyderabad, Bengaluru and has a NAAC accreditation of 3.59 CGPA (4.0 scale) and Grade A + three-cycle and a Category 1 University. The consistent academic quality, research focus, faculty from top national and global institutes and strong industry linkages at NMIMS have placed it amongst the nation's prime centers of educational excellence and research today. With the core aim to create multiskilled, confident and versatile future leaders, NMIMS has been striving for the perfect combination of classroom education and practical experience. The B. Des. Humanising technology program is an example of NMIMS 'continuous effort to bring to students, industry relevant programs that help them scale the career ladder.
If you are an aspiring designer looking for a program that prepares you for the ever-evolving trends in the industry, it's time you start your journey at NMIMS. The B.Des (Humanising Technology) program is inviting applications by NMIMS-DAT entrance test.
Under NMIMS-DAT, candidates must first register at https://nmims.secure.force.com//SOD_BAG_Login after which they will be asked to upload their portfolio. This will be followed by an online studio test, online personal interview and portfolio review.
For details on the programs, admission, eligibility, selection process and other information, visit https://design.nmims.edu
Stay in touch with us,
Facebook: https://www.facebook.com/NMIMS.Design/
LinkedIn: https://www.linkedin.com/school/nmims-schoolofdesign
Instagram: https://www.instagram.com/nmims.sod/
Disclaimer: Content Produced by NMIMS
!function(f,b,e,v,n,t,s)
if(f.fbq)return;n=f.fbq=function()n.callMethod?
n.callMethod.apply(n,arguments):n.queue.push(arguments);
if(!f._fbq)f._fbq=n;n.push=n;n.loaded=!0;n.version='2.0′;
n.queue=[];t=b.createElement(e);t.async=!0;
t.src=v;s=b.getElementsByTagName(e)[0];
s.parentNode.insertBefore(t,s)(window, document,'script',
'https://connect.facebook.net/en_US/fbevents.js');
fbq('init', '2009952072561098');
fbq('track', 'PageView');
.



Source link